Dr. Bradley Dean, a periodontist in Plano, TX, is a different kind of dentist. He isn't just your typical dentist that provides simple cleanings and x-rays. Our office focuses on serious and complicated dental problems in adults. As a periodontist, Dr. Dean specializes in gum disease and surgically placing dental implants. So what should you expect if your general dentist refers you to us?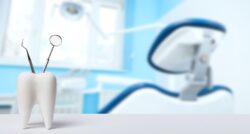 Coordinated Care
As a specialized dentist, Dr. Dean works with your general dentist to get you all the care you need. Seamlessly working together means that you get the dental care that's necessary without worrying. If your general dentist discovers a periodontal issue or recommends that you get dental implants, they'll refer you to us for further treatment.
Your First Visit
When you come into our office for the first time, you'll first meet with one of our patient care coordinators. We'll need a complete background of this particular dental issue you're having, your past medical and dental history, and any other problems that are relevant to your dental health.
Then, Dr. Dean will do a full evaluation. He'll determine the details of your condition and what could be done to help resolve the said condition. You'll be able to ask any questions that you've been thinking of for further explanation. We then let your dentist know the findings as well. You and your dentist can then discuss your options and figure out what you want to do moving forward with your condition.
Our Goals
Dr. Dean and the rest of the team at the office have a set of goals that they strive to achieve with every patient. We find it necessary to make sure all of our patients are educated about periodontal disease, its impacts, and the forms of treatment for it. We'll make sure to coordinate with your general dentist and work with them for your comprehensive care. You, your general dentist, and our office should all be informed and work smoothly together to help you.
Dr. Dean is constantly obtaining further education in periodontal disease, sedation dentistry, and dental implant fields. We always want to provide the most high-tech, advanced techniques to our patients for their care. These advanced techniques also normally make treatment more comfortable for both the patient and the dentist.
Lastly, we don't want to waste your time or our time. We want this to be a beneficial experience for everyone involved. We want to give you the kind of care that makes you want to recommend us to other people in your life that may be having the same kinds of issues. From the first visit to former treatment, we'll give you our best.
Your Periodontist in Plano, Texas
If you're having issues with gum disease or looking for dental implants, we're the choice for you. Call us or schedule an appointment online!