Implant dentistry continues to evolve and meet the changing needs of patients with new techniques for tooth replacement. From a single implant to permanently securing a hybrid denture, Dallas area dentist Dr. Bradley Dean has been a local leader in the dental implant industry.
Dr. Dean has pioneered both advanced technology and techniques for patients with missing teeth. As a trained and experienced oral surgeon, Dr. Dean can help you achieve a functional new smile with optimal results.
One of the major factors affecting a patient's candidacy for dental implants has always been the integrity of the jaw bone. Many patients have either been unable to consider an implant secured dental bridge or denture if their bone has been compromised, or too much recession has occurred or required to undergo bone or sinus grafting to accommodate and maintain dental implants.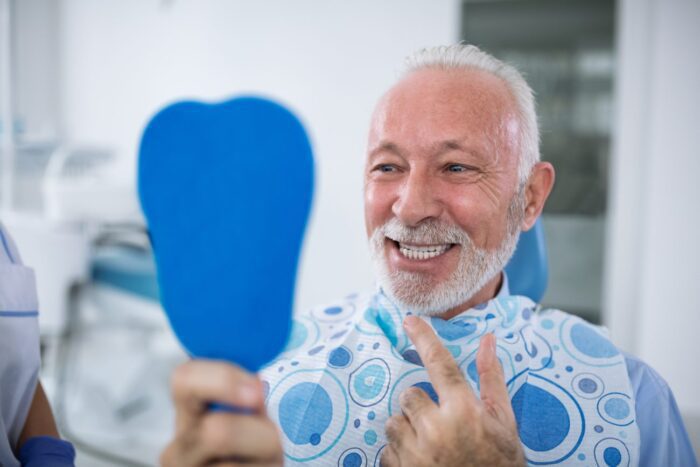 Zygoma Implants: How Do They Work?
Advances in the science of implant dentistry now make it possible for Dr. Dean to place dental implants in patients with what would have previously been considered inadequate jaw bone. Zygoma dental implants can support a dental bridge or denture with less recovery time than traditional implants, using zygomatic bone when the jaw bone structure is not sufficient.
Zygoma implants use the cheekbone above the jaw, or maxilla, bone to anchor and support a dental bridge or denture almost immediately. Dr. Dean will analyze the condition of your jaw and overall dental health before recommending a treatment plan using zygomatic implants.
He will take the time to discuss your health history, concerns, and personal goals to be sure that your result is optimal and supports long-term oral and overall health and well-being.
Zygoma implants can enable edentulous patients with the compromised jaw bone to enjoy the benefits that dental implants offer for long-term oral health and quality of life.
Why Choose Dr. Dean?
Dental implants have quickly become a commonplace term and are offered by many dentists in the Dallas area- and all around the U.S. But few local dentists have the extensive, in-depth training and experience that Dr. Dean has for the placement of all types of dental implants and the treatment of periodontal concerns.
Dr. Dean, a highly trained and experienced oral surgeon, has become an internationally recognized dentist, taking time to lecture and teach around the globe. A board-certified periodontist, he offers specialized care for patients with missing teeth.
Our Plano periodontist office has the technology needed for both thorough evaluation and detailed treatment planning. This is important for the strategic placement of dental implants and the best possible result for patients. We also offer sedation for your complete comfort during your procedure.
Zygomatic Implants FAQs
How long do zygomatic implants take to heal?
On average zygomatic implants take about 8 months to heal. This is an increased healing rate compared to bone grafting.
Are zygomatic implants painful?
With zygomatic implants, pain is significantly decreased. Zygomatic implants are placed directly into your cheekbones, rather than using a bone graft. This makes zygomatic implants much less painful than general implants that are placed using bone grafting.
How do you clean zygomatic implants?
With zygomatic implants, we recommend brushing your teeth twice daily, as well as using a waterpik. A waterpik is useful for cleaning under and around your implants. It is very important to maintain a good oral care routine with zygomatic implants to prevent tooth decay and other issues from occurring.
What can I eat after zygomatic implants?
After zygomatic implants you can eat anything that you can cut with a fork. This includes, but is not limited to scrambled eggs, mashed potatoes, cooked vegetables, salmon, shredded chicken, etc. We recommend that you avoid foods that require excessive chewing for about 5 months, because it takes time for your gums and implants to be strong enough to handle excess pressure.
Who needs zygomatic implants?
Zygomatic implants are recommended for patients who have severe bone loss in their upper jaw. These implants do not require bone grafting which is preferred for patients with excessive upper jaw bone loss.
What is the success rate of zygomatic implants?
used to treat severe maxillary atrophy, zygomatic implants had a cumulative success rate of 98.5% after less than a year, 97.5% after three years, 96.8% after five years, and 96.1% after more than five. These are extremely high success rates, especially overtime.
Learn More About Dental Implants
Schedule A Dental Implant Consultation
If you have missing teeth, poorly fitting dental appliances, or have been told you are not a candidate for dental implants, schedule a consultation with Dr. Dean to learn more about the benefits of zygoma implants. Dr. Dean will meet with you, discuss your needs and goals and provide a personalized treatment plan for your consideration. Contact our Plano dentist office or request an appointment online.