Single Cosmetic Dental Implant
When you're missing a tooth from the front of your smile, it can be especially embarrassing. We don't want you to have to go without a tooth in your cosmetic zone. It can negatively impact your self-esteem and quality of life. With cosmetic dental implants, we can quickly replace the missing tooth or teeth to make sure you don't have to live with a missing tooth for long!
The first thing Dr. Dean will need to do is make sure there is enough jawbone to support the dental implant. If you lack sufficient bone tissue, you may need to undergo a bone graft. Next, he will surgically place the implant into your jawbone.
Dental implants need time to heal; about three to six months. Our dentist can place a temporary restoration during this time period for cosmetic and functional reasons. This temporary makes your smile appear whole and complete while you wait for your jaw bone and gums to heal over the implant. Once the implant is secure, your dentist will complete it with a dental crown. Learn more about dental implants in Plano, TX here.
Fixed Crown & Dental Bridge
If you're missing many teeth in a row, you may consider a crown and bridge as a replacement option.
Did you know that a traditional crown or bridge requires your dentist to modify your remaining healthy teeth? He will file them down to allow room for the dental crowns to anchor the bridge in place. We offer an alternative: implant-anchored fixed bridges. Implant-supported bridges do not depend on your natural teeth for support, but instead connect to dental implants.
After Dr. Dean surgically places the implants, he may be able to place a temporary dental bridge while you wait for your permanent bridge. Dental implants promote continued bone growth, preventing both bone shrinkage and gum recession associated with traditional bridges.
The benefits of implant-supported bridges include:
Preservation of surrounding teeth.
Restoration of smile and oral functions.
Easy to care for.
Durability.
Implant Dentures & All on Four Solutions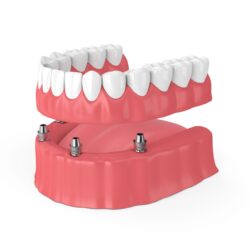 Implant dentures are an effective treatment option for patients who are missing all of their teeth. Implant-retained dentures can either be removable or fixed. All-on-Four implant dentures provide a permanent restoration on top of only four implants. This innovative procedure works best with thorough strategic planning.
Dr. Dean will work with patients on an individual basis. He will build a personalized treatment plan that maximizes the use of any healthy bone structure for optimal results. This permanent restoration will enable you to enjoy the best possible quality of life and confidence in your smile. No slipping and no discomfort!
Dr. Dean will always recommend dental implants over removable appliances because they last longer and have a more natural-looking result. Dental implants also offer long-term benefits for dental health when compared to removable dentures. Learn more about All on Four® Implant Dentures here.
Learn More About our Plano Implant Dentistry: