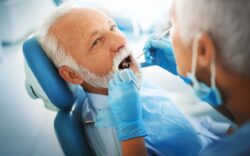 Periodontitis, or gum disease, is a disease that can result in premature tooth loss. It is also a risk factor for heart disease and lung disease. Many people may not be aware that they have gum disease because it is usually painless.
Gum disease is fairly common, with over 3 million cases of the disease each year. However, it is still important to try to stop gum disease from occurring at the source.
What You Can Do to Prevent Gum Disease
Floss daily
Do your best to eat a healthy diet rich in fruits and vegetables
Avoid tobacco products
Schedule regular check-ups
Brush for two to three minutes, twice a day
To summarize, a good diet and oral health are the keys to happy and healthy patients and gums.
Symptoms of Gum Disease
The symptoms of gum disease may look like this for you:
Bleeding gums
Sore gums
Receding gums
Loose or shifting teeth
Swollen gums
Sores on or near gums
Chronic bad breath
Red gums
Deep pockets forming between teeth and gums
A persistent bad taste in the mouth
If you have noticed these symptoms, please contact Dr. Bradley Dean immediately so that you can get the dental help you need.
Gum Disease Treatment
Gum disease may seem irreversible, but it is treatable.
Dr. Bradley Dean is a periodontist, and specializes in gum health and the management of gum disease in his patients. He diagnoses and treats patients first by using dental x-rays to visually take note of what is happening to the gums. If someone is in the early stages of periodontitis, a scaling and root planing is performed below the gum line. Gums are given a deep cleaning. Patients in the advanced stages of periodontitis may need surgery if initial scaling and planing does not solve the problem.
Some of the surgical and non-surgical treatments are listed below to learn more, click here:
Frenectomy
Tooth Extractions
Fiberotomy
Soft tissue and gum grafting
Functional crown lengthening
Esthetic crown lengthening
Guided tissue and bone regeneration
Schedule a Periodontal Exam Today
Take control of your gum health. Consult with our experts so that we can find the treatment that is right for you and your oral health needs. Call us at (972) 666-1594 or schedule an appointment with Dr. Bradley Dean online.