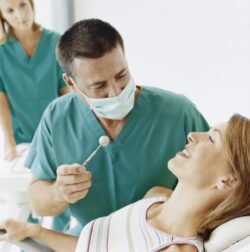 Taking care of your gums can help you avoid the development of gum disease and other complex dental concerns. Visit our Plano, TX to learn more about improving your oral health.
Gum disease is the leading cause of adult tooth loss. Our gums are what help keep our teeth secure and healthy. Neglecting your gums can lead to bleeding gums, receding gums, and tooth decay. If you begin to notice signs of gum disease, it is important that you visit a highly trained periodontist as soon as possible.
Dallas area periodontist Dr. Bradley Dean offers a full range of periodontal care in our Plano, TX dentist office. Dr. Dean holds a Master's Degree in Periodontics from Baylor College of Dentistry. We offer a complete range of surgical and non-surgical periodontal treatments and will work with you to build a comprehensive dental treatment plan that is tailored to your oral health needs.
Gum disease is a progressive bacterial infection of the gum tissue. Gingivitis is a common and mild form that often causes tender gums, bleeding gums, halitosis, and swollen gums. When gingivitis left untreated, it can develop into periodontitis. Periodontitis is the most advanced stage of gum disease and often leads to tooth loss. Gum disease has also been linked to an increased risk of developing serious health conditions such as strokes, diabetes, and heart disease.
Know the risk for gum disease:
Poor Oral Hygiene
Smoking and tobacco use
Pregnancy
Diabetes
Certain Medications
Common Signs of Gum Disease
Bleeding Gums
Swollen, Irritated, and Tender Gums
Receding Gums
Halitosis (Bad Breath)
Loose Teeth
Change in Bite Alignment
Schedule a Dental Exam
If you notice any changes to your oral health, visit our Plano, TX dental office. Dr. Dean will perform a full dental examination and create a treatment plan based on your needs. To schedule an appointment, call (972) 666-1594 or request an appointment online.