Gum disease has two stages: gingivitis and periodontics. Gingivitis is a common and early stage of the disease characterized by red, irritated or bleeding gums. Periodontitis is advanced disease with symptoms including gum recession, loose teeth, and changes in the bite. It can lead to tooth loss if left untreated. Dallas area periodontist Dr. Bradley Dean offers advanced treatment options for gum disease that can address all aspects of the infection, including tissue damage.
There are many ways to treat gum disease. After a complete periodontal examination and dental X-rays, Dr. Dean will determine the most suitable treatment options for your specific oral health needs. We use advanced technology to provide solutions for gum disease that are less painful, more accurate and lasting.
Laser Assisted Periodontics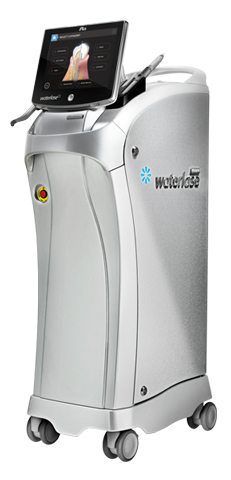 Waterlase Laser Dentistry is a non-surgical treatment for gum disease. This technology address periodontal disease without the pain, side effects or down time of traditional treatments such as oral surgery.
Benefits of Waterlase Technology
Safe and Precise – Waterlase uses a precision instrument that reduces damage to adjacent tissue or healthy tooth structures that could occur during oral surgery. This system has been around for years and is cleared for numerous dental applications.
Painless – Unlike oral surgery, Waterlase uses laser energy to treat affected tissue. This produces minimal or no discomfort for most patients and reduces the need for anesthesia.
Naturally Powered – Waterlase combines water, air and laser energy to treat gum disease. Interacting with the natural water molecules within our tooth structure, the waterlase can effectively cut through hard and soft tissue without pain.
Convenience – With less pain, virtually no side effects and minimal downtime, Waterlase is much more convenient than traditional treatments.
Patients also enjoy Waterlase technology because this system is able to remove soft tissues without the use of a scalpel. Waterlase vaporizes tissue with light energy and allows for immediate results while stimulating healthy tissue regrowth.
Dr. Dean is highly trained in providing specialized care for periodontics. Our Plano dentist office provides a warm, welcoming environment designed to help you relax during your visit with us. We provide concierge style, patient focused care for your specialized dental health needs to restore a beautiful, healthy smile.