There are multiple uses for dental implants. Dr. Bradley Dean and his professional dental team offer dental implant treatments to replace one or more missing teeth. Learn more below: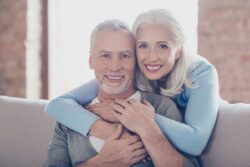 Single or Multiple Dental Implants
Dental implants consist of titanium posts that are inserted into the jaw bone and covered with abutments. After a healing period of 3 to 6 months, the posts are capped off with permanent dental crowns which are custom-fabricated to look like your natural missing tooth. The restoration is made from a highly durable ceramic material that is both stain and decay resistant. The dental crown will be color-matched and shaped to blend seamlessly with your adjacent teeth.
Dental Bridges
Multiple consecutive teeth can be replaced with a dental bridge. A dental bridge can be secured using dental implants. After the implants are placed they will be allowed to heal for 3-6 months. During this time patients are typically fit with a temporary bridge depending on the location of missing teeth. Once the implants have healed, patients will receive a final custom-designed dental bridge.
Dentures
Whole arches of teeth can be replaced with dentures. Modern dentures look more natural, fit more comfortably, and provide a more secure bite than ever before. New or existing dentures can be secured using dental implants. As little as 4 implants can be surgically placed in the jaw or face and used to anchor a denture arch in place with All on Four®. Implant supported dentures improve comfort, function and the appearance of the denture. Patients enjoy long-term oral health benefits and a more confident smile.
Implant-secured dentures also offer many benefits to patients. This solution:
Improves function of bite
Provides a more stable and secure denture
Improves speech & chewing mobility
Supports bone retention
Supports gum health
Prevents gum recession